Which one of these is not a web browser?
Getting people to understand what we webdevelopers do can be hard. Just look at the infamous Google video asking people what a web browser is, with no one having a clue. OMG!Ubuntu! recently posted about something similar, where a question on the Indian "Who wants to be a millionaire" was "Which one of these is not a web browser?". The choice was between Firefox, Opera, Facebook and Chrome. Did the contestant pick correctly?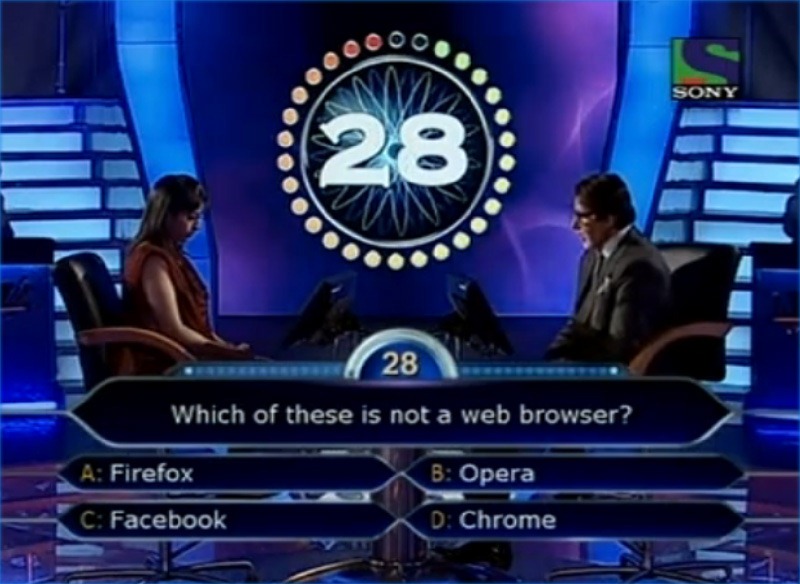 She did!
…But it took the entire audience.
What interested me though, is the conclusion OMG!Ubuntu! came with:
But dig a little deeper and people are actually a lot smarter than given credit for. Had those people […] been given a laptop and asked to log in to Facebook the majority would've managed it fine.
And that's just it. Who cares if people don't know the difference between a browser and a search engine. They can use their computers to visit your website, that's awesome.
Apps
On Ubuntu (and mac OSX, too) the lines between a web app and a desktop app are blurring. You can use HTML + CSS + javascript to make desktop apps, and websites can be installed as if they were regular applications. With desktop and web apps blurring together, the concept of a browser is getting increasingly vague.
Knowing what a browser is isn't important, it's knowing how to use one that is.
Related articles
Head over to Polypane.rocks to sign up for the beta …
One term that keeps coming up in the design community as a stand-in for layout is "box model", for example in "Why don't design tools have the box model?" The CSS Box model is a well-defined term though, and it does not do layout. If we keep referring to our imaginary perfect layout system in design…
The modern messaging tools that chatbots run on offer much more ways to interact compared to what previous incarnations of chatbots had, such as those used on IRC or AIM. Much advise on building chatbots that's out there quietly assumes that all chatbots are just text-in-text-out, which doesn't match with the platforms they are on.…